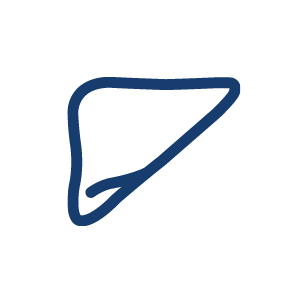 How do liver candidates get
prioritized for

transplant?
Understanding how the transplant community
develops policy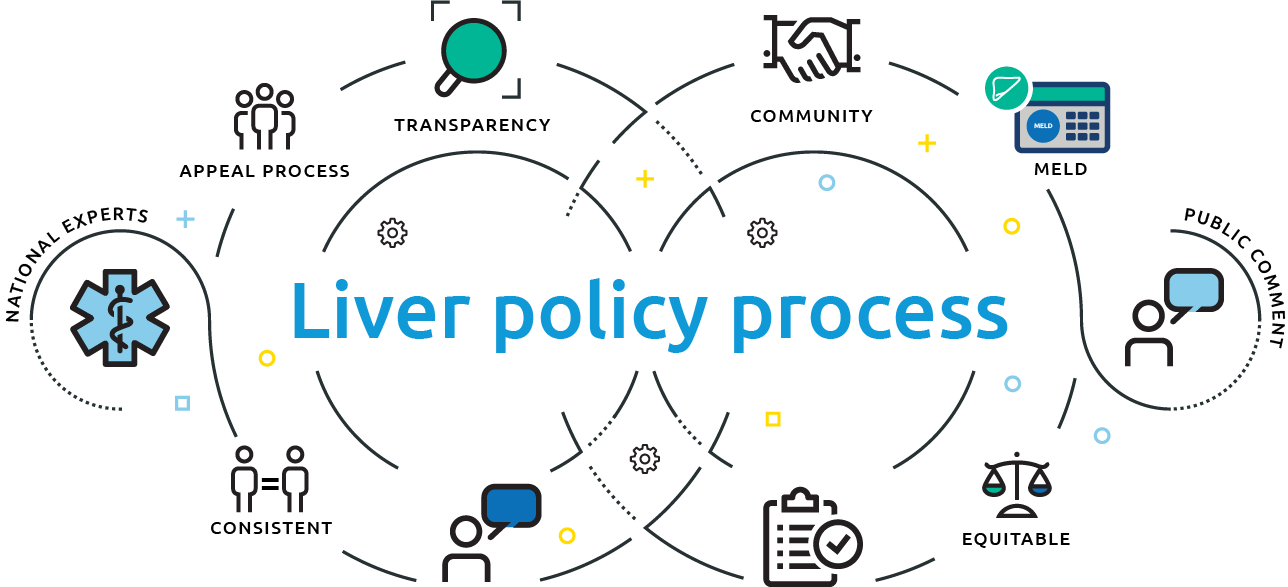 The national liver allocation system is designed to consider all transplant candidates in an equitable and consistent manner, understanding that there are currently not enough organs to transplant all in need. Liver allocation policy — the policy that matches deceased donor organs with patients on the waiting list — is developed with extensive input from the public and the community of donation and transplantation professionals.
Recent attention has focused on the process of determining medical urgency for liver transplant candidates, especially those whose medical circumstances require special attention. This involves what are known as "exception scores" for patients on the waiting list. While the OPTN cannot comment on any individual candidate's medical history or status, we hope the following information clarifies how candidates receive transplant priority based on their level of illness. This page also provides information for patients and their families about how their transplant hospital may seek an exception score, and how to appeal a decision to an application for an exception.
Working together to make the national transplant system equitable for all
A message from Brian Shepard, CEO, United Network for Organ Sharing
UNOS is a mission-driven, nonprofit organization that brings together the donation and transplant community to establish a transplant system that is fair, objective and consistent for every patient on the waiting list.
Read the full letter here
UNOS is a mission-driven, nonprofit organization that brings together the donation and transplant community to establish a transplant system that is fair, objective and consistent for every patient on the waiting list.
Volunteers representing the transplant field are at the heart of what we do. In fact, we have many more volunteers than paid UNOS staff members, and those volunteers are transplant doctors, organ recovery teams, health care professionals, donor families and patients from all over the U.S. Our goal in bringing this community together is to do everything we can, every day, to improve the system and work to find patients the life-saving organs that they need.
How we develop policy
Because there aren't enough organs to meet the need, as a community we develop policies that offer available organs in as fair a way as possible. Policies are developed by our volunteers who serve on committees focused on subject areas—liver transplantation or kidney transplantation, for example—and on committees that ensure equity in the system around particular perspectives, including patient affairs or minority affairs. Those committees develop proposals for ways to strengthen allocation policy.
Every policy proposal is available for public comment on our website. Twice each year, we hold a series of meetings around the country where the public can come and comment on those proposals. They are then voted on by a board of directors that is also elected from the national transplant community.
We welcome this productive exchange of ideas because it makes our policies better—and we think developing policies that are based on evidence and clinical practice is the best way we can serve the patients who rely on us to help them.
The process of assigning medical priority for liver transplant candidates
Due to recent changes in liver policy, questions have arisen about how we determine medical priority for liver transplant candidates. The primary way that candidates get ranked for a liver transplant is through a score that's based on their lab values and other medical tests.
There is a process, however, that allows for a candidate who has a unique medical situation where the lab values don't quite reflect exactly what their true medical condition is.  In those cases, their transplant hospital can apply for an increase in the patient's score based on those unique medical conditions.
That application is reviewed by a committee of liver transplant doctors from across the country who look at the patient's condition and the additional information from the patient's hospital and see if the score should be adjusted.
If that answer doesn't satisfy the transplanting hospital, they can appeal that decision. And the appeal can include conversation where the transplant hospital gets to talk directly to the review committee and explain their case and answer questions the reviewers may have. The review board system was set up to be consistent and unbiased and to gather the information they think is most essential to support their decisions.
Improving the field of transplantation
UNOS is the one place where the donation and transplant community works together to address the organ shortage by finding new ways to utilize every possible organ that is donated.
We examine the data that we've collected through our years of managing the nation's transplant system to look for any opportunity for improvement. We recently conducted a collaborative improvement project during which we worked with a number of transplant centers to find ways to identify and utilize hard-to-place kidneys, and we found that the number of these transplants increased overall.
Our vision
During each of the last six years we've set a new high for the number of transplants. We're well on pace to do that again—by the end of 2019, about 40,000 people in the U.S. will be transplanted, which will set yet another all-time high. That number is thanks to the generosity of organ donors and their families, and we're doing everything we can to honor the gift that they make.
Can we do more and better? Yes. We're actively and continuously improving processes, both among staff and with the whole donation and transplant community.
A life-saving transplant for everyone in need—that is our vision. With the support of so many people who give the gift of life, and with the dedicated and talented people who work in this field, we are getting closer to realizing it.
A message to patients on the waiting list
MELD scores and PELD scores
For most liver transplant candidates, medical urgency is determined by an evidence-based formula, either MELD for candidates age 12 and older or PELD for those younger than 12. Each formula uses objective medical data to assess how likely a person is to survive in the short term without a liver transplant.
Some transplant candidates have a medical condition, such as cancer or rare forms of chronic liver disease, where MELD or PELD will not accurately predict their short-term transplant need. If so, they may qualify for an "exception" score — a separately assigned score to be used instead of their calculated MELD or PELD in matching the person for available organ offers.
Exception scores — standard and customized
The goal of exception scores is to make access to transplant more equitable among patients with similar levels of medical urgency.
Some medical conditions are common enough that the liver transplant candidate can get a standard exception score. The person's medical condition would need to meet criteria outlined in OPTN policy. The standard exception score for most adult candidates is set slightly below the midpoint of MELD scores of patients transplanted at and near the hospital where the patient is listed. This is done to balance the priority of exception candidates with other individuals who develop an urgent transplant need based on their MELD score.
Some candidates may be sicker than the standard exception score would indicate. In these cases, the person may have a condition that does not meet criteria for a standard exception score.
In either instance, a patient's transplant hospital (the transplant team) makes customized exception score requests to a national review board of independent medical experts made up of liver transplant physicians and surgeons. Requests examined by the review board contain no patient or hospital identifiers so that the review is completely unbiased and based only on medical information. The review board is tasked with deciding whether the requested score is reasonable based on the patient's current medical condition and the likelihood that the recipient will do well once transplanted.
The National Liver Review Board
The National Liver Review Board (NLRB) consists of volunteer medical experts who practice transplantation throughout the United States. It considers all exception requests on an anonymous basis, with no information about the candidate's identity or the hospital making the request. The board makes its decision based solely on the medical facts supplied by the transplant hospital, aided by their own medical judgment and guidance from the OPTN. The review board may grant or deny the exception score requested.
If the initial request is denied, the transplant hospital listing the candidate can choose to pursue a series of up to three appeals. Through the appeal process, the patient's transplant team has the opportunity to provide additional detail to clarify questions that may arise in earlier review. In each instance, the reviews are conducted based on the medical facts presented, the medical expertise of the reviewers and applicable OPTN guidance.
"The NLRB provides a fair and consistent approach across the country for waitlisted patients whose need for liver transplant may not be adequately captured by their calculated MELD score."
Julie Heimbach, M.D.
Mayo Clinic, Rochester, Minnesota
Chair, National Liver Review Board
Previous review board policy vs. new policy
Revised OPTN review board policies took effect in May 2019. At that time, a National Liver Review Board (NLRB) was implemented, replacing a system of 11 separate review boards, one for each OPTN Region.
This is related to broader OPTN policy action to minimize the differences in transplant patient access that are influenced by geography.  Federal regulation (the OPTN Final Rule) directs that organ allocation policy should minimize the effect of where a patient lives or lists for a transplant on their chance of receiving an organ.  For example, while two patients in the same city or town may be equally sick and in need of a transplant, one might not have the ability to travel to other states in search of a transplant center that may be able to match and transplant sooner than the patient's center at home. As a result of these inequities that developed over time, data show that in some parts of the U.S., less sick patients were being transplanted compared to sicker patients beyond that specific geographic boundary even though the sicker patients were still within a reasonable distance to transplant successfully.
Until the NLRB was implemented, there wasn't a national process that provided similar transplant access to patients whose scores did not accurately reflect how sick they were. Instead, each region had its own review board for evaluating exception requests submitted by hospitals in its region. Most regions adopted independent criteria for approving exceptions, commonly referred to as "regional agreements." Regional differences in MELD/PELD score exception submission and approval rates have been well documented, even among regions with similar organ availability and waiting list demographics.
Through the NLRB, the OPTN seeks to reduce this regional variability in scoring practices by adopting national guidance for assessing exception scoring requests.
The primary differences between the previous regional system and the current national one include these:
The NLRB now consists of three specialty boards (adult hepatocellular carcinoma diagnosis (HCC); Pediatrics; and Adult Other Diagnoses). This ensures that needed expertise is present on each board and improves consistent decision-making.
Each review board consists of members from across the country. This is also intended to reduce regional inconsistency.
Improved guidance now exists for each national specialty board to use in deciding exception scores — also intended to improve consistency and fairness.
The way in which the value for exception points is determined has also changed. The points assigned to adult candidates are set to a fixed value (that the hospital requests) relative to the median MELD score for recipients in the surrounding area (currently Donation Service Area) at the time they received their transplant. In view of the candidate's medical urgency, the NLRB uses medical judgment in deciding whether to grant or deny the hospital's exception point request.
NLRB membership and process
Every liver transplant hospital can be represented on the NLRB. Each liver transplant hospital may appoint a representative and alternate to each of the specialty boards. Complete orientation precedes  each term of service, which includes training on exception policy, operational guidelines, and guidance for evaluating common types of exceptions.
For each exception request, the five assigned anonymous experts log into a secure web-based application, where the patient's liver transplant hospital has posted both clinical data about the patient (identifiers removed) and narrative information in a free text field for reviewers to examine. The transplant hospital also requests the exception score it thinks appropriate. NLRB members review each application to ensure that the score requested meets the clinical situation. Reviewers consider only medical information. They do not get information identifying the patient, the hospital, or the part of the country where the patient is waitlisted.
The review board members approve or decline the exception score requested. Reviewers vote on the site, and once two "No" votes or four "Yes" votes are received, voting closes. A request must achieve four of five affirmative votes in order to be approved. If an NLRB member votes to deny a request, he/she must provide an explanation.
Appeal process
When the NLRB declines a requested exception score, the transplant hospital may appeal the decision for further consideration. The first appeal goes back to the same panel of five reviewers that denied the request the first time. This gives the hospital a chance to provide more information and respond to any comments that the review panel provided.
If the initial review group declines the first appeal, the hospital can appeal to a different group of reviewers, called the Appeals Review Team (ART), which has nine members who meet weekly by conference call. The hospital requesting this second appeal has the opportunity to join the call, explain any nuances in the case, and have a two-way discussion with reviewers.
If the ART appeal is not favorable, the hospital may appeal to the OPTN Liver and Intestinal Transplantation Committee.
"Patients and their families rely on the transplant community to use the best medical judgment in every case and to be good stewards of the precious resources given us by donors and their families."
David C. Mulligan, M.D., FACS
Yale-New Haven Health Transplantation Center
Vice President, UNOS Board of Directors
Exception review & appeal process