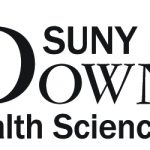 Website SUNY Downstate Health Sciences University
Are you looking to take your career to new heights with a leader in healthcare? SUNY Downstate Health Sciences University is one of the nation's leading metropolitan medical centers. As the only academic medical center in Brooklyn, we serve a large population that is among the most diverse in the world. We are also highly-ranked by Castle Connolly Medical, a healthcare rating company for consumers, among the top 5 leading U.S. medical schools for training doctors.
Job Summary:
The Department of Transplant Surgery at SUNY Downstate Health Sciences University is seeking a full-time Transplant Administrator. The successful candidate will:
Provide leadership and manage the Transplant program that utilizes services organized across institutional and disciplinary boundaries for specific diseases and populations.
Focus on the delivery of services for the Transplant program.
Develop, maintain, grow, and evaluate services in order to achieve optimal and safe patient outcomes
Oversee daily operations of administrative staff related to patient access areas; fiscal/marketing activities of the product lines and components therein; maintain compliance with regulatory requirements.
Develop the budget components related to staffing, supplies, and other related expenses; project revenue based on current and future volume growth; oversee the performance of staff-related revenue cycle performance; present analysis and corrective action plans for budget variances throughout the year.
Demonstrate thorough knowledge of industry regulations and standards compliance of the transplant division by working closely with the transplant staff.
Serve as liaison with University Physicians of Brooklyn and University Hospital of Brooklyn leadership to ensure that clinical and practice services are accessible and physician-friendly.
Develop short and long-range goals and objectives for the service line consistent with an institutional strategic plan.
Create an environment that supports social and cultural diversity, patient safety, and customer-oriented service. Demonstrate thorough knowledge of industry regulations and standards (UNOS, CMS, TJC, OPO, DOH) and knowledge of organ tissue recovery, clinical data management.
Required Qualifications:
Masters degree in Business or healthcare-related field.
Five (5) to seven (7) years active, relevant management experience.
Preferred Qualifications:
Prior working experience working with Transplant-OPO, ESRD.
Thorough knowledge of industry regulations and standards (UNOS, CMS, TJC, OPO, DOH) and knowledge of organ tissue recovery, clinical data management.
Work Schedule:
Monday to Friday: 9:00am to 5:00pm
Salary Range:
Commensurate with experience and qualifications.
COVID-19 Vaccination Requirement:
An approved COVID-19 vaccination.
Executive Order:
Pursuant to Executive Order 161, no State entity, as defined by the Executive Order, is permitted to ask, or mandate, in any form, that an applicant for employment provide his or her current compensation, or any prior compensation history, until such time as the applicant is extended a conditional offer of employment with compensation.  If such information has been requested from you before such time, please contact the Governor's Office of Employee Relations at (518) 474-6988 or via email at info@goer.ny.gov.
Equal Employment Opportunity Statement:
SUNY Downstate Health Sciences University is an affirmative action, equal opportunity employer, and does not discriminate on the basis of race, color, national origin, religion, creed, age, disability, sex, gender identity or expression, sexual orientation, familial status, pregnancy, predisposing genetic characteristics, military status, domestic violence victim status, criminal conviction, and all other protected classes under federal or state laws.
Women, minorities, veterans, individuals with disabilities, and members of underrepresented groups are encouraged to apply.
If you are an individual with a disability and need a reasonable accommodation for any part of the application process, or in order to perform the essential functions of a position, please contact Human Resources at 718-270-3025.