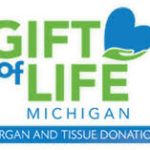 Website Gift of Life Michigan
We honor life through donation.
Chief Financial Officer & Vice President of Administrative Services
Gift of Life Michigan  (www.giftoflifemichigan.org)
Core Purpose: We honor life through donation.
Organization Overview
Gift of Life was incorporated in 1971 by Michigan transplant surgeons to provide a network for sharing kidneys.  Today, Gift of Life Michigan is a nonprofit organization, headquartered in Ann Arbor, and is the state's only federally designated organ and tissue recovery program, providing all services necessary for organ and tissue donation to occur in Michigan, 24 hours a day, 7 days a week.
As a state-wide liaison between donors, hospitals and transplant centers, Gift of Life recovers more than 1,000 organs every year for transplantation from 400 or more donors, saving hundreds of lives. Bone, skin and other tissue also is recovered, helping to significantly improve the lives of thousands of seriously injured and sick recipients. Gift of Life also works with Eversight Michigan to manage cornea and eye donation.
In addition, Gift of Life maintains and grows the Michigan Organ Donor Registry in partnership with the Michigan Secretary of State. The registry is a confidential database of state residents who have expressed their desire to someday help others by becoming an organ, eye and tissue donor.
 Organizational Profile:
·         Team Members: 250+
·         Geography: the entire state of Michigan
·         Core Values: Determined, compassionate and professional
The Opportunity: Chief Financial Officer & Vice President of Administrative Services
This key Executive role will serve as a member of the Senior Leadership Team, collaborating with colleagues to ensure successful attainment of short and long-term vision and strategic plans.  Specific expectations include financial strategy and operations; culture, people and human resources operations; facilities operations and capital project planning; administrative department oversight; and leading/developing team members consistent with service standards and financial goals/objectives.
Reports to: Chief Executive Officer
Direct Supervisory Responsibilities: include providing supervision and leadership for the Directors of Accounting/Finance, Human Resources/Organization Development, Administrative Services, Information Technology/Project Management.
Key Responsibilities
Leadership
Translate vision and values into daily practices and ensures adherence to core purpose, values and operational systems designed to support the strategic plan
Promote priorities and drive implementation of the strategic plan
Instill accountability at all levels of the organization (leadership and staff)
Consistently convey key messages, thereby building a shared understanding across the organization
Finance & Accounting
Serve as a financial strategist, aligning financial and business strategies in the formulation of management policy and the strategic plan.
Execute budgeting process to achieve financial targets; preparation of monthly metrics for review by the senior leadership team.
Provide reports and analyses to CEO and Board Finance & Audit Committees of progress against goals, subject to GAAP, Medicare and IRS regulations
Project performance and opportunities through forecasting and financial analysis
Accounting oversight: interface with external CPA on annual audits and best practices
Oversee the preparation and filing of all external reports for the organization such as cost report, tax reports, government solicitation licenses and other government applications.  Ensure that record keeping meets the requirements of auditors and government agencies.
Review and assess financial implications of all organizational contracts
Organization Development/Human Resources
Oversee all human resource related functions, including payroll, benefits, retirement savings plan, policies, and compliance
Ensure rewards systems drive recruitment and retention goals, including total compensation strategy analysis
Benchmark all reward systems: salaries, employee benefits/perquisites, retirement plans, and incentive strategies
Equip the organization with needed talent through proactive and reactive recruitment and talent acquisition strategies and programs
Develop team members for the current and future needs of the organization through oversight of a comprehensive human resource training and development strategy
Administrative Services/Facilities
Operationalize analytics, reports, scorecards and data measures that provide transparency to the performance of administrative services team, ensuring the organization is supported in executing the mission
Create and oversee facilities planning, to include short and long-term maintenance and capital plans/forecasts
Oversight of capital building projects, including engaging contractors and building senior leadership team consensus on project plans
Create meetings or issue-solving forums to review analytics and divine solutions to rapidly course correct, as needed
Evaluate and manage all vendor relationships for optimization and alignment
The Qualified Candidate
Gift of Life seeks a collaboratively focused, proven executive.  The successful candidate will have leadership experience with prior success in creating teams and systems to drive results and operational efficiencies, and be goal oriented as well as a strategic thinker.
Requirements include:
Education and Experience
Master's Degree in Accounting, Finance, Business, or a relevant field of study.
10+ years of progressively responsible leadership experience.
Demonstrated track record of success leading teams in a dynamic, growth setting.
Significant experience in leadership positions managing operations and diverse team members.
A history of launching successful initiatives, including managing change and ensuring target attainment through resource allocation and continuous monitoring/adjustments to ensure objectives are met.
A high level of Emotional Intelligence or Social IQ with demonstrated track record of influencing, collaborating and affecting change through others.
Proven ability to  partner with CEO and executive leadership team to foster innovation and lead change in an atmosphere of mutual respect.
Impeccable written and oral communication and relationship building skills; ability to effectively communicate vision, goals and values and impact performance.
 Key Competencies for Success
Ability to work in fast-paced, results oriented, demanding environment, balancing competing priorities.
Strong attention to detail, with a keen eye for excellence to ensure compliance to various regulations.
Oriented to continuous improvement/quality control in driving excellence.
Growth and change leader; earns trust, gets involved and "rolls up the sleeves" to get meaningful and sustainable results for all key constituents.
Proactive, yet disciplined – identifies opportunities and takes initiative.
Collaboration building; alliance building; non-bureaucratic.
Earns credibility by listening, offering meaningful solutions, makes fact-based decisions, and focuses on delivering meaningful outcomes.
Humble yet confident servant leader who seeks the betterment of the team; open to feedback, continuous learning and committed to ongoing self-improvement.
Executes well; gets results.
Self-motivated and self-directed; practicing initiative to determine assignments, priorities and problem-solving.
Desired/Preferred Qualifications:
Experience in an Organ Procurement Organization or Health Care organization.
A personal connection to, or passion for, the mission of honoring life through donation.
This position offers a competitive salary with benefits.  This position is based in Ann Arbor, Michigan.
To Apply
This search is being managed by Karen F. Andrews, SPHR, of The Andrews Group.  To apply, candidates should submit their cover letter (including salary history and current requirements) and resume to karen@karenandrewsgroup.com or apply on-line via this LINK.
About the Ann Arbor, Michigan area
Ann Arbor has consistently been recognized as one of the nation's best cities in which to live!  With a population of over 115,000, Ann Arbor boasts abundant culture and increasing business opportunities.   It is home of the University of Michigan, Google, and several national and international companies.
Washtenaw County is well renowned for its cultural offerings, summertime street fairs and festivals and dining experiences.  The area also offers a bounty of recreational activities for those looking to golf, hike, or cycle, and three Metroparks are within a short drive of the city center.
Additionally, the Washtenaw County/the Ann Arbor area boasts top-ranked school systems, a growing economy and diverse housing options.  Located a short distance from the Detroit Metro Airport, Ann Arbor provides quick access to travel options within and out of state.