30 years of lifesaving collaboration
2014 annual report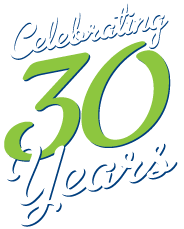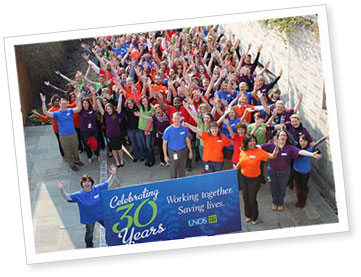 Working together. Saving lives.
In March 2014, UNOS observed the milestone of 30 years of incorporation. Throughout that time, we have continually expanded and improved the services we provide to the organ transplant community in fulfillment of our lifesaving mission.
In 2014, we established significant new policies intended to help more people get transplanted, with better long-term outcomes. We also began work on a number of initiatives to improve the equity, efficiency and safety of the national transplant system.
Collaboration is key to all we do. We operate in the public trust, guided by transplant professionals as well as people who have been personally touched by organ donation or transplantation. We work daily to build and improve systems that meet their needs. While 2014 was a year of many accomplishments, we continue to keep our focus on the work ahead and the needs we must address with the support of our members and the public.
2014: A record breaking year
29,532
organ transplants performed in the US in 2014
26,048
organ transplants made possible through deceased donation in 2014
18,184
transplants occured among recipients age 50 or older in 2014
Transplants By Organ Type – 2014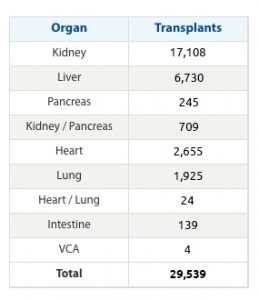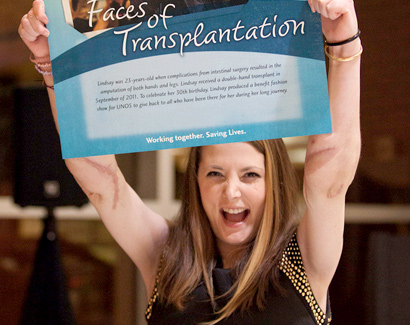 UNOS oversees face and hand transplants for the first time
We established the first-ever first national policies and standards in July 2014 for transplantation of limbs, faces and other structures of the body. This groundbreaking form of therapy, known as vascularized composite allograft (VCA) transplantation, returns vital function and identity to people who have suffered a devastating injury or illness.
Learn more:
TransNet automates organ labeling and packaging
We introduced this comprehensive electronic solution in 2014 to ensure that donated organs are matched correctly and efficiently with the identified patient. Learn more
From collaboration to action
New kidney allocation system
We implemented major changes in December 2014 to the matching system for deceased donor kidneys. The new system is meant to improve recipients' long-term kidney function, provide more transplant opportunities for hard-to-match candidates and encourage a higher placement rate for available kidneys.
New pancreas policy
We implemented changes to pancreas policy in October 2014. These revisions should help increase access to transplantation for the more than 3,000 people currently waiting for a pancreas and will make the matching process more efficient.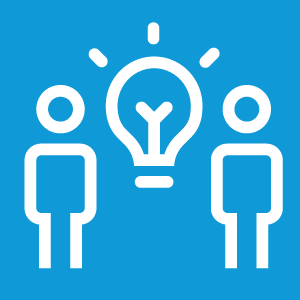 Educating the transplant community
1,136,356
people visited our websites in 2014
10,500
views of 21 online educational events for professionals in 2014
8,300
policy brochures and resources distributed to patients, family members, the general public, and our members in 2014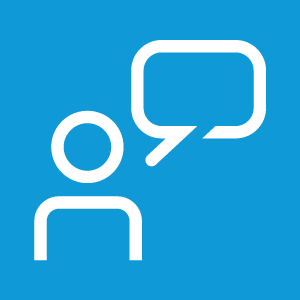 With all of our collective efforts focused on patients, we strive to increase the number of and access to transplants, improve survival rates after transplantation, and to promote patient safety and efficient management of the system. A continuous cycle of public feedback guides our actions.
Learn more:
UNOS operates a pilot program to match living kidney donors with recipients in cases where the original donor-recipient pair was not a biologic match. The program is funded partly through the OPTN and partly through charitable support and in-kind donations from a number of individuals and organizations. In 2014, the program arranged 46 transplants; from its beginning in October 2010 through December 2014, the project has facilitated 125 transplants.

To explore more options for liver allocation, the OPTN/UNOS Liver and Intestinal Organ Transplantation Committee is gathering public feedback on issues related to access to liver transplantation. In 2014, activities included consideration of a concept document and a discussion forum. The nationwide conversation continues in 2015 with more opportunities for feedback and public gatherings.

In 2014, UNOS began development of policies to support implementation of the HIV Organ Policy Equity Act, also known as the HOPE Act. The Act calls for study of the feasibility, effectiveness and safety of allowing transplantable organs from HIV-positive donors to be used for HIV-positive candidates. Work on these policies has continued in 2015, and clinical studies may begin as early as 2016.
Financials
UNOS' primary mission is to perform the OPTN contract. The OPTN is a cost-sharing and cost-reimbursement contract in which the federal government contributed $3,994,449 in federal appropriations and the transplant community contributed $35,441,081 of the$39,435,540 program in fiscal year 2014.
OPTN funding represents 76.7% of UNOS revenues. The remaining 23.3% of revenues comprised UNOS fees, data services, meeting registration fees and charitable contributions. These additional revenues provide resources needed to support the OPTN contract and the financial health of the organization.
Revenues (fiscal year 2014)*
| | |
| --- | --- |
| OPTN registrations and funding | 39,435,540 |
| Contributions | 690,597 |
| UNOS fees | 8,060,892 |
| Data services | 1,699,309 |
| Meetings & other | 1,546,969 |
| Total | $51,433,307 |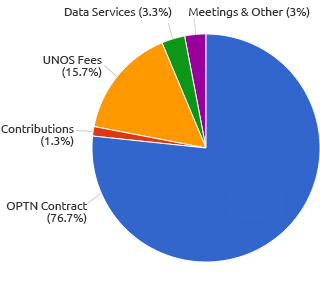 Expenses
(fiscal year 2014)*
| | |
| --- | --- |
| OPTN | 39,435,540 |
| Data services | 1,538,489 |
| Administration | 1,841,001 |
| Fundraising | 382,995 |
| Other | 3,977,416 |
| Total | $47,175,441 |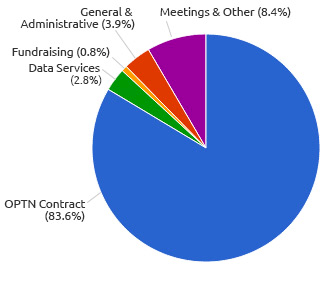 UNOS Board of Directors members serving in 2014
Note: Terms of service for outgoing UNOS Board of Directors members end June 30 each year, and terms of incoming members begin July 1 each year. The following list reflects members who served on the Board of Directors during any portion of calendar year 2014.
UNOS Board of Directors serving in 2014
Marwan S. Abouljoud, M.D., FACS
Henry Ford Hospital
Kenneth A. Andreoni, M.D.
Shands Hospital/University of Florida
Yolanda T. Becker, M.D.
University of Chicago Medicine
Carl L. Berg, M.D.
Duke University Hospital
A. Michael Borkon, M.D.
Saint Luke's Hospital of Kansas City
Lori E. Brigham, M.B.A.
Washington Regional Transplant Community
Suzanne Lane Conrad, RN, M.S.H.A., CPTC
Iowa Donor Network
Matthew Cooper, M.D.
Medstar Georgetown Transplant Institute
Rose T. D'Acquisto, B.A.
Michelle M. Desler, M.S.
Mary Amanda Dew, Ph.D.
University of Pittsburgh School of Medicine & Medical Center
David D. Douglas, M.D.
Mayo Clinic Hospital, Phoenix
Viken Douzdjian, M.D.
Legacy Good Samaritan Hospital & Medical Center
Devin E. Eckhoff, M.D.
University of Alabama at Birmingham Medical Center
Trine Engebretsen M.D., M.S
Tracy Evans-Walker, RN,CNP, CCTC
Cleveland Clinic Foundation
Stuart M. Flechner, M.D.
Cleveland Clinic Lerner College of Medicine
Ray Gabel
Midwest Transplant Network
John A. Gerlach, Ph.D.
Michigan State University
James M. Gleason, B.S., M.A.
Julie K. Heimbach, M.D.
Mayo Clinic, Rochester
Mitchell L. Henry, M.D.
The Ohio State University Wexner Medical Center
G. Kent Holloway, M.S.F.
Lifeline of Ohio
Michael G. Ison, M.D., M.S.
Northwestern University
Maryl R. Johnson, M.D.
University of Wisconsin School of Medicine and Public Health
Christopher M. Jones, M.D.
Jewish Hospital
Malek Kamoun, M.D., Ph.D.
Hospital of the University of Pennsylvania
Dixon B. Kaufman, M.D., Ph.D.
University of Wisconsin Hospital
James Kiehm, B.S.
Heung Bae Kim, M.D.
Boston Children's Hospital
Bradley T Kornfeld, J.D.
Marlon F. Levy, M.D.
Baylor All Saints Medical Center
Carrie Lindower, RN, M.B.A., CPTC, CCTC
SUNY Health Sciences Center at Stony Brook
Ruth A. McDonald, M.D.
Seattle Children's Hospital
Lisa M. McMurdo, RN, M.P.H.
Robert M. Merion, M.D.
University of Michigan Medical Center
Michael S. Mulligan, M.D.
University of Washington Medical Center
Laura M. Murdock-Stillion M.H.A., FACHE
Ohio State University Medical Center
Kenyon W. Murphy, J.D.
Craig W. Myrick, RN, CPTC
Mary J. Nachreiner, B.S.P.T.
University of Wisconsin Hospital & Clinics
Kevin J. O'Connor, M.S., PA
LifeCenter Northwest
Donald Olenick, Esq.
Mark S. Orloff, M.D.
Strong Memorial Hospital
Richard V. Perez, M.D.
UC Davis Medical Center
Marilyn S. Pollack, Ph.D.
University of Texas Health Science Center
Elizabeth A. Pomfret, M.D., Ph.D.
Lahey Clinic Medical Center
Lloyd E. Ratner, M.D.
Columbia University/New York Presbyterian Hospital
John P. Roberts, M.D.
UCSF Medical Center
David Shaffer, M.D.
Vanderbilt University Hospital
Michael E. Shapiro, M.D.
Rutgers, New Jersey Medical School
Julie L. Siegel, J.D.
Harvey Solomon, M.D.
St. Louis University Hospital
Susan A. Stuart, RN, M.P.M.
Center for Organ Recovery & Education
Stuart C. Sweet, M.D., Ph.D.
St. Louis Children's Hospital
J. David Vega, M.D.
The Emory Clinic
Betsy J. Walsh, J.D., M.P.H.
W. Kenneth Washburn, M.D.
University of Texas Health Science Center
Charles E. Wright, M.D.
LifeLink of Florida
Vicky Young, Ph.D.
Edward Y. Zavala, M.B.A.
Vanderbilt University Medical Center
Deborah C. Surlas Legacy for Life Society
We thank these generous supporters who have included UNOS in their estate plans. Learn more about planned giving >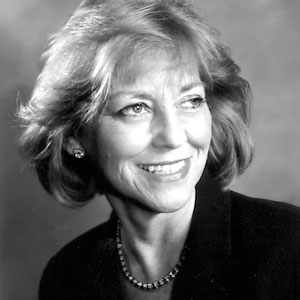 Deborah C. Surlas*
Margaret Allee, R.N., JD
Walter K. Graham
Jane Cole Godin*
Lisa Hubbard*
Paul Oldam*
Vicki F. Sauer
James P. Trunck
James Wynn, M.D.
*deceased

Contributors
UNOS is grateful to the following contributors for their support in 2014:
$100,000 and above
Genentech
Novartis
The Mary Morton Parsons Foundation
$20,000- 99,999
Astellas Pharma US, Inc.
Jane Cole Godin
Rollin M. Gerstacker Foundation
$5,000 - 19,999
Alexion
Commonwealth Personnel Consultants Inc.
Conquest Graphics
Custis Westham Fund of The Community Foundation
Guidry and East, LLC
iHeartMEDIA
Judith Haskell Brewer Fund of The Community Foundation Serving Richmond and Central Virginia
Massey Foundation
Margaret Oldam
Richmond Magazine
Richmond Times-Dispatch
Muriel Schwartz
The C.F. Sauer Company
SunTrust
Transplant Management Group, LLC
VCU Health System
Voltage Vapin' Inc.
Wellpoint, Inc.
Wells Fargo
William Jeffrey's
$1,000 – 4,999
Actuarial Benefits and Design Company
Jane Agnew
Ann and Robert H. Lurie Children's Hospital of Chicago
Apple Spice Junction
Nicole Barron Archer
Arkansas Regional Organ Recovery Agency, Inc.
Bank of America
BBandT Insurance Services
Cyndi Hangsterman Beal
Bistro 27
Blue Bell Creamery
Bon Secours Virginia
Jay Bradshaw and Family
Clyde Bradshaw
Becca Carson Brockway
Brio Tuscan Grille
Bull and Bear Club
Capital Ale House
Casa Del Barco
Catering by Jill Inc.
Shana Meehan Chase
Cherry Bekaert LLP
Julia Bruns Ciaramitaro
Clinical Consulting Associates, Inc.
Crozer-Chester Medical Center, Upland, PA
DeFazio's Catering
Beck Dillon
Donor Alliance
Donor Network of Arizona
Andy Dyson
Epic
Essentra Porous Technologies Corp.
Fat Dragon
Erin Fitzpatrick
Gary and Lois Foxen
Gift of Life
Gift of Life Michigan
Haley Buick GMC
Homemades by Suzanne
Houston Methodist J.C. Walter Jr. Transplant Center
Intermountain Medical Center
Iowa Donor Network
Sue Snow Jenkins
John Marshall Ballrooms and Catering
John R. and Carter A. Bryan Charitable Trust
Kaleida
Kona Grill
Legacy of Life Hawaii
Lex's of Carytown
Lifebanc
LifeChoice Donor Services, Inc.
LifeGift
Lifeline of Ohio
LifeLink Foundation, Inc.
LifeLink of Georgia
LifeLink of Puerto Rico
LifeShare Transplant Donor Services of Oklahoma, Inc.
Living Legacy Foundation of Maryland
Louisiana Organ Procurement Agency
M.H. West and Co., Inc.
Mama J's
Mayo Clinic Arizona
McDoland, Colleen Finn
Michigan Donor Family Council
Mid-South Transplant Foundation
Mise En Place
Mississippi Organ Recovery Agency
Christopher Mize
Kristina Flanders Morelli
Mosaic
Bill Murray and Jean Hovey
Nacho Mama's
Gretchen Reed Napoli
Nevada Donor Network, Inc.
New England Organ Bank
New York Presbyterian Hospital
Laura Mazzeo O'Hanlon
OneLegacy
Paragon Financial Services
Patient First
Patriot Mechanical Corporation
Pinnacle Health System
Puritan Cleaners
Richmond International Raceway
Seattle Children's Hospital Transplant Center
Sidewalk Cafe
Colleen Cuneen Smith
Mark and Debra Smith
Southwest Transplant Alliance
St. John Transplant Specialty Center
Stanford Hospital and Clinics
Sutter Transplant and Advanced Heart Therapy Services
Navshad Tavaria
TechnoMarketing
The Boathouse
The Christ Hospital Health Network: Transplant Center
The Joel Bieber Firm
The Ohio State University Wexner Medical Center
The Reco Foundation
Jim Traficant
Travinia Italian Kitchen
Truliant Federal Credit Union
UF Health Shands Transplant Center
University of Arizona Medical Center
University of Arkansas for Medical Sciences
University of California Los Angeles Medical Center
University of Iowa Organ Transplant Center
University of Michigan Transplant Center
University of Rochester Medical Center/Strong Memorial Hospital
Untys
VA Biotechnology Research Park
Virginia Union University
Xerox
Wake Forest Baptist Health Abdominal Organ Transplant Program
Marc Waldor
Westin Richmond
Erin Whelan
Julie Whipple
White House Catering
Whitley Service Roofing and Sheet Metal Company
Williams Mullen Foundation
Zoe Wilmot
Nancy McLean Wyant
Up to $999
3M Commercial Graphics Division Lab
Abner Baptist Church
Raymond Adams
Alfred I. duPont Hospital for Children
Margaret Allee
Allegheny General Hospital
Ellwood Allen
Allstate Giving Campaign
Amazon Services LLC
Amazon Smile
American Endowment Foundation
Deborah Amos
Tracy Amweg
Rebecca Anderson
Karin Andreatta
Anonymous (16)
Danielle Appelbaum
Carl Archacki
Judy Asbury
AT&T United Way Employee Giving Campaign
Attainium Corp
B and L Floorcovering, Inc.
Angela Babin
Donald Bahash
Darwin Baker
Lynnis Baker
John Bandes
Betty Banks
W. Barker
Mary Barnes
Patricia Barrett
Jon and Betsy Barton
Jonathan Barton
Susan Bartunek
Thomas Beard
Carol Behr
Jeffrey Berlin
Janice Bernardini
Evelyn Berrier
Sharon Billenstein
Danielle Black
John Bluth
James Bowman
Gena Boyle
Weldon Bradshaw
Braskie, James
Sheila Breidinger
Susan Britt
Wade Broussard
Roger Brown
Margaret Brownson
Ruby Bunn
Carol Burch
Norma Burroughs
Brad Burshem
Stuart Butler
Pat Caldwell
Kathy Calhoun
California Pacific Medical Center, The Barry S. Levin, MD Dept. of Transplantation
Renee Camarena
Robin Caspari
Carilion Clinic
Patricia Carmichael
Wesley and Norma Carter
Nancy Castrina
Joanne Castro
Center for Organ Recovery and Education
Challa Law Offices
Judith Champion
Charles Schwab Foundation
Sandy Chase
Thelma Chase
Vicki Chase
Jade Chen
Yulin Cheng
Children's Healthcare of Atlanta
Children's Hospital and Medical Center, Pediatric Heart Transplant
George Chokos
Cioffi and Gebbia Families
Gloria Clark
Stephen Clark
Patricia Clarkson
Rosanne Claytor
Kirk Cleere
Jerry Clendenon
Tim Cockey
Scott Cohen
Tina Cole
Betsy Coleburn
Monique Colley
Combined Federal Campaign
Commonwealth of Virginia
Virginia Cook
Cassandra Cossitt
Shandria Covington
Jay Cowan
Charles Cox
Donald Creach
Britta Cruz
CultureWorks
Donna Curry
Sara Dale
Daley, Mark
Melissa Damiano
Midge Daniels
David Dase
John Davis
Sara Davis
Dorothy Deaner
Katherine and Randall DeCastro
Christine Dennis
Melissa Devenny
Kathleen DeVivo
M. Dewitt
Kristen Dimlow
John Dolceacqua
Donatic
James Donithan
Dorsey Insurance LLC
Alan Dozoretz
Susan Duerksen
Patricia Dunn
Jennifer Dunning
Erick Edwards
James Edwards
Ryan Ehrensberger
Laura Eliason
Elliott Company of Indianapolis, Inc.
Mary Ellison
Lewis Epstein
EquiLend
Escape Massage One LLC
Jennifer Eshelman
ExxonMobil Foundation
Sandra Favaro
Thomas Feistel
Jessie Fernandez
Rick Fey and Family
Sarah Finke
Jill Finnie
Linda Fishman
Margaret Fleming
Ray Fleming
Joe Floss
Ford Motor Company
Arnold Friedmann
Dave Fuller
Fultz Architects
Steven Funk
Elizabeth Gabrynowicz
Kelsey Galarza
Grace Gallagher
Thomas Gallagher
Sheena Garner
Alexander Garza
Jennifer Gavin
Genesis Risk Services
Georgia Regents Kidney Transplant Program
Tracy Giacoma
Hope Gillespie
Shannon Gingras
Stephanie Giovannetti
Elaine Giurleo
Give with Liberty
Givelike
Terrence Gleason
Russell Glover
Harold Goff
Elaine Goldman
Casey Gomez
Good St.
Sharon Gordon
Rosalind Greiver
Beth Guarnieri
Matthew Guercio
Douglas Guyett
Robert Guziak
Jerry Hancock
Lyn Harding
Maria Harrington
Pete Harrison
Merion Haskins
Judith Hawkins
Diane Haworth
David Hayes
Health Informatics International
Shana Heller-Ogden
Pete Henderson
Mary Anne Henley
Madonna Hennette
Hill Electrical, Inc.
Jeanie Hill
William Hill
Kathy Hoar
Bobby Holliday
Lyal Hood
Ron Hopkins
Robert and Jacklyn Howard
Todd Hoyle
JoAnne Hruz
Charlene Hubbell
Arthur Huey
Emily Huff
Hunton and Williams LLP
Kim Hynes
I Do Foundation
IBM Employee Services Center
Indiana University Health Transplant
Erica Inge
Invista Maintenance
Jackson Memorial Hospital
Tavia Jackson
Barbara James
Barry James
Coralett James
Deborah James
Glenn Jansky
Jeb International Tobacco Co.
Loren Johnson
Rebecca Jonas
Melissa Jones
Vickie Jones
Jessica Julian
JustGive.org
Patrick Kacani
Leigh Kades
Ellen Karnisky
Connie Katchkey
Michelle Kauk
Mike Keeling
Lucy Keesee
Jacqueline Keith
Stacey Kelley
Craig Kennedy
Charles Kiehl
Tracy Kinder
Greg King
Jennifer Kirby
Rita Knight
Jeanelle Knowles
Susan Knowles
Jane Koonce
Patricia Krout
Daniel Kuchem
Michael Lane
Janice Latimer
Lynn Lau
Ralph Layman
Legacy Transplant Services (Portland, OR)
Saharat Leklerson
Karen Letteriello
Bill Levitt
William Levitt
Lucy Liebert
Carol Lobel
Tiffany Lord
Jeff Love
Loveland Distributing
Lung in a Box – UCLA
Norma Lutz
Dan Lynch
Maury Lynch
Charles Mackey, III
Tom MacVaugh
Lorri Maestrello
JoAnn Malone
Markel Corporation
Ivan Marker
Diana Marsh
Massingham and Associates
Melissa Masters
Joseph Matchett
Laurie Matez
Amanda Mattocks
John McBride
Maureen McBride
Charlotte McCaffrey
Cliff McClenney
Braxton McCraw
Estaline McCraw
James McSherry
Merck Foundation
Merck Gives Back
Merck Partnership for Giving
Mercy Medical Center
Methodist Dallas Medical Center
Microsoft Matching Gifts Program
Holly Byrd Miller
Thelma Miller
Joy Montrief
Robert Moon
Barbara Moore
Sonja Moore
Carol Morgan
Joseph D. Morrissey
Morton G. and Nancy P. Thalhimer Foundation
Gary and Joyce Mosley
Amanda and Jason Mullins
Artie Munden
Pamela Murphy
My Tribute Gift
N. Chasen and Son, Inc.
Christopher Nalley
National Research Corporation
Cathy Netherly
Tracey Nettell
Network for Good
Nicole Neufeld
New York Life
Neal Newell
Piper Nichole
Catherine Nitti
North Shore University Hospital
Mark Nugent
James and Helena Nyman
Ocean Drive Dunes Neighbors
Jacqui and Kevin O'Keefe
Thomas Olbrych
Omnicity
Michael Orbin
Cheryl Ott
Allan Palmere
Margaret Pantano
Morgan Parks
Melissa Parry
Anne Paschke
Jitendra and Hemandri Patel
Kara Patterson
Levera Patton
Pelican Ice, Inc.
W. Baxter Perkinson, Jr.
John Persons
Joyce Peterson
Richard Petrovsky
Melissa Phillips
Shawn Phillips
Betsy Pierce
Mike Pierce
Kyle Pollock
Ann Pontius
Mike and Ivy Pressendo
Profound Productions
Tracy Propst
J.P. Pryor
Nehal Ramchandani
Michael and Monica Rao
Chuck Rayfield
Renaissance Charitable Foundation, Inc.
Colleen Renaudin and Family
reRock It
Retail Merchants Association
Reynolds Lighting Supply, Co.
Tina Rhoades
Richmond Primoid, Inc.
Richmond Raiders
Richmondmom.com
Sharon Ricker
Irene Rinaldi
Jennifer Roben
Robert King Construction
Wayne Rongholt
Adam Rosen
JoAnne Rossi
Jennie Roth
Debbie and Jeffrey Rothschild
Alvin Rouben
Bobbie Rouben
Maxine Rouben
Elizabeth Rubin
Darryl Rust
RVA Home Team
Stephanie and Jeffrey Ryan
Saint Luke's Hospital of Kansas City
Lana Sakash
Basheer Salameh
Edith Salmon
Debra Sandridge
John Scavnicky
Lisa Schaffner
Shari Schnall
Betty Schnellenberger
Robin Schoenthaler
Peninmah Schram
Mary Ellen Scott
Mary Louise Scott
Robert Scott
Fran and David Seasholtz
Stuart Seaton
Jill Selden
ServiceMaster Services, Inc.
Robert Shaftel
Louise Shaia
Shapiro Management Services, LLC
Burt Sheier
Alexandra Sheller
Carol Sherman
Terrie Sherman
Debbie Sidlauskas
Ruth Sidorowicz
Silicon Valley Community Foundation
Bonnie Silverman
Glenda Simmons
Kathleen Smith
Marilyn Smith
Steven Smith
Gary Snedegar
JoAnne Snyder
Harvey Sobel
Chad and Lauren Southward
Kenneth Sowinski
Cheri Spain
Jabari Spencer
Spotless Window Cleaning
Jeff Stark
Statline
Chris Stells
Sheila Stells
Joel Stern
Michelle Stevenson
Mary Stokes
Stonehenge Management LLC
Inge Strack
Derrick Strand
S. Subramanian
Brian Sullivan
Mark Sumner
Elizabeth Suskind
Greg Swartz
Stuart Sweet
Jessica Tabor-Fritch
Tauber Oil Company
Katrina Tavares
Gloria Taylor
Teamsters Local Union No. 952
The Benevity Community Impact Fund
The Broadberry LLC
The Johns Hopkins Comprehensive Transplant Center
The Nebraska Medical Center
Ana Thompson
Matthew Thompson
Wyllie Thompson
Marla Threewits
Thursday Night Merchants
Tooher and Barone, LLP
Transplant Services, University of Virginia Health System
Faye Traylor
Thomas Trexler
Virginia Triplett
Truist
Ashley-Elizabeth Tucker
James Tucker
McKinley Tucker, Jr.
Tung, San San
Twin Hickory Elementary School
June Um
Union Employees of CSX
United Way of the Greater Lehigh Valley
UnitedHealth Group Employee Giving Campaign
University of Colorado Hospital Transplant Center
University of Maryland Medical Center Transplant Program
University Of Minnesota Medical Center, Fairview
University of Pittsburgh Medical Center
University of Virginia Health System
Stuart Urbach
Urban Land Institute Richmond
Frances Valencic
Rose Valija
Vanderbilt University Medical Center
David VanDeVelde
Elizabeth Velez
Joe Veltri
Ashlie Virgil
Virginia Society of Associaton Executives
Jennifer Volland
Margaret Wagenecht
Wager Family
Geneva Walker
Lauri Walker
Richard Walker
Mary Jo Wallace
Leslie Waller
Debbie Warner
William Weirich
Arthur Weiss
Deborah Wendorf
Elaine Wiatrowski
Vonna Willcockson
Williams Mullen
David Williams
Megan and Ellis Williams
Mary Wilson
Chris Withers
Christi Wong
Joe Wysowski
Betsy Young
YourCause
Robyn Zernhelt
H.J. Zoffer
Laura Zyglocke
Honorariums
Many gifts to UNOS are made in honor of individuals and groups with a personal connection to donation and transplantation.
All the donors and their families
James Arcila
H.R. Autz
Joseph Ball
Alan Bartunek
Weldon & Emily Bradshaw
Judith Clarke
Amy Cotton
Dr. Teresa DeMarco
Tara Donnelly
Tony Favaro
Gary Ferb
Dr. Ron Ferguson
Gift of Life's 40th Anniversary
Shannon Gingras
Colleen Gleason
Charlotte R. Hunsucker
Barry Lee James
Richard James
Glenn Jansky
Jerry
Tom Kiff
Cathy Lauterbach
Nancy Long
Robert McClain
Larry and Eileen Methvin
Wayne Mikolajczak
Samantha Moncur
Paul Nettell
Levera Patton
Retail Merchants Association Board of Directors
Sara Robinson
Lisa Schaffner
Paul Scherer
Marilynn Schimmel
Katie Schweider
Mark M. Smith's donor
Chad Southward
Doris Stubbs
Christopher Sumner
Debi Surlas
Mila Jaye Teplitzky
University of Washington Heart Transplant Nurses
Laurent Verret
William Weirich
Emmett & Shirley Whitaker
Memorials
Many gifts to UNOS are made in memory of individuals and groups with a personal connection to donation and transplantation.
Mary Kathryn Barnes
Aldo Barovero
Rick Bartlett
Katie Barton
Tammy Bashem
Cary Douglas Brock
Elmore Smith Buchan, Jr.
Sheryl Burgess
Audrey Burrell
David Burroughs
Jeffrey Canadeo
Rachelle Carter
A. Wayne Clingenpeel
Kimberly Paige Coffey
Rubin Cohen
Jane Cole
Lane Ryan Cordova
Bob Cugini
Misty Amber Davis
Kaitlyn Doorhy
Chad Dunning's donor
Dan Dwyer
Jayne Engleheart
Richard Fenlon
Andrew J. Finke
Fred Fredericksen
Gina Graziano
Gerald P. Guziak
Hagan Hill
John Heller
Deborah Hoffman
Joseph Jakubowski
Jules Jammal
Larry Dene Jones
Ronald R. Jones
Virginia Jones
Richard H. Karnisky
Ed Kelly
Seth H. Kramer
Harold Lane
Somnurk Leklerson
Mamie Allen Lex
James Lilly
Mary, my organ donor
Nefeterius Akeli McPherson
Lois Ruth Perrone Megliola
Thomas Allen Melton
Janice Messink
Jim Minc
My anonymous donor
My heart donor
My liver donor 21 years ago
My organ donor
Andrea Naugler-Forrest
Barbara S. Nivens
Eddie Don Nussbaum
Paul Oldam
Ann Peterson
Sharon Peterson
Loretta Pollock
Pamela Praill
Brian Rickert
Michael Rinaldi
David Roben
Alan B. Roby
Roger Rodgers
Giuseppe Saieva
Martha Lou Scobee
Andrea Falgout Shallue
Susan M. Shapiro
Emily Sheier's Donor
Robert Silver
Theresa Soltysiak
Zarmehr Tavaria
Peter Teleha
Brian Thaut
Forrest Glenn Triplett
Judy Violante
Christina Walker
Herbert Wilson
Evan Wishnia
View previous annual reports: